Putting on makeup is a common routine for most women. However, you may not know whether you are using the correct makeup brush to apply your products. The right makeup brush makes all the difference when it comes to creating a great look. Using the right brushes can also keep your makeup more hygienic and safe to use. With so many make up brushes to choose from, here are some tips on the top make up brushes and how they work best.
Fan Brush 
No matter what your best buy cosmetics happen to be, one of the top brushes to use is the fan brush because it is so versatile. This brush can be used to apply blush, but it can also be utilized when you want to blend your makeup, highlight certain areas of the face or even remove some loose excess powder.
Powder Brush 
One of the most common brushes is the powder brush. It is big and puffy so that any type of powder foundation can be applied evenly to the skin.

Stippling Brush 
If you prefer to use liquid foundation rather than powder, a stippling brush is necessary. It's composition of goat hair and synthetic fibers help to hold and blend the makeup while you apply.

Brow Brush 
If you want to get a great look for your eyes every time, you will want to have a brow brush in your arsenal. Whether you want a light, airy look for day or smoky eyes for night, this brush lets you get into all of the creases of your eyes.
Eye Blender 
A brush for blending your eye makeup may seem repetitive if you already how a brow brush, but these two brushes do very different job. While the brow brush gets makeup on the eye, the eye blender combines the different colors you have used to create a smooth, flawless look.
Angled Eye Brush
An angled brush for the eyes will help you make the definition you want to your eye makeup. This brush is often used to apply gel eyeliners, but it can also be used to make more defined lines along the crease of your eyelid.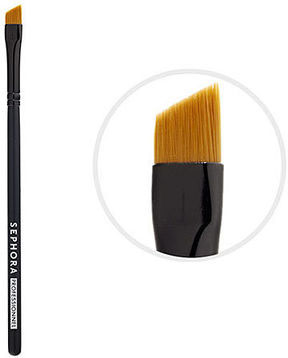 Lip Brush 
While a lip brush may not be required to have a great look, it can be useful when you want to apply a deep shade to the lips. Because lipstick isn't always perfectly accurate on application, a lip brush will help you create the lip line that you want without having to correct yourself if you get outside the lines. The brush is also helpful for those who have broken sticks or sticks that are almost gone. The brush can get down into the base so you can use the color for a little longer.

Blending Brush 
Once you have finishing applying all of your makeup, you can pick up a blending brush to solidify the look by blending it all together. When used correctly, this brush will give you that magazine airbrushed effect and make your skin look flawless.
Whether you are looking for a great set of Sigma brushes or a single brush to meet your needs, it is important to know which brush is right for the job. Not all brushes are made equal and buying the right brush can make all the difference to your look.
Recommended Reading: 5 Questions To Ask Yourself Before Buying Luxola Cosmetics